These are some of the things I highly recommend and use personally.
I treasure these gems in my online marketing toolbox.
Autoresponder:
I use Aweber.  It's the gold standard for email deliver ability, and more important, is really the crux of your whole business.  never skimp on your autoresponder.  Your list IS your business.  Your allegiance should ALWAYS be to your list rather than a particular MLM company.  Period.
I also recommend ActiveCampaign as a primary autoresponder.
It has the most advanced email segmentation and sequences and also operates as a functional CRM.
If you were just starting out today, go with ActiveCampaign.
ClickFunnels
ClickFunnels is the de facto best platform for creating funnels, optin pages, order forms, sales pages – everything.
You don't need to rely on WordPress or plugins that can break.
For me this has replaced everything else, including Optimizepress, which I no longer use.  The two things you NEED as an online entrepreneur is ClickFunnels and an autoresponder.  Everything else is optional.
Grab 3 free funnels here (when you start your trial).
I have a tutorial that I give as a bonus to new trials.  So hit me up after you open your account.
Multi-Dimensional Marketing
This is following up with autoresponders, SMS and direct mail simultaneously.
You can integrate SMS Text messaging and voice broadcasts with Aweber using Call Loop.
You can get 50 free messages using the link above.
Tax & Receipt Management
I use Taxbot.
As an entrepreneur, you are ENTITLED to significant tax deductions that you should be taking advantage of.
Taxbot stores all of my receipts digitally for my business.  It also stores all my medical receipts and auto receipts.
And it automatically logs my mileage – which amounts to some serious savings!
Seriously, if you are not keeping track of your receipts, you are losing money.
I have a short webinar that explains my super-simple book-keeping system.
Click here to register for my webinar.
But you can get a 2 week trial of Taxbot here.
Taxbot costs me about $100/ year.  But the savings I would have normally missed are easily voer $10,000+ per year.
QuoteRoller
QuoteRoller is the fastest way to deliver and electronically agree (legally) on quotes.
When I do custom quotes, like I did recently for the NDP campaign in Nova Scotia, I use quoteroller to price jobs, invoice and allow clients to pay me quickly.
(They can pay via Paypal or check).
The best part is setting up custom templates, which you can re-use, and the coup-de-gras is the abiltiy to send a video proposal.
For example, if I'm re-working somebody's blog, I can screen-record and explain what needs to change and how I intend to change it.
Great charts, graphs and UI, which makes doing a quote at least a little fun.
Scanning and Faxing
Maxemail gives me a dedicated virtual fax machine for $14.95/yr.  I get a dedicated fax phone number, and all faxes go directly to my email as a PDF attachment.
Awesome!
(Unfortunately Maxemail was purchased by efax, which I don't recommend.  So after many years of service, I have to say goodbye to MaxEmail.)
I use Scanbot as my scanner, and FaxZero as my outbound faxing service.  I no longer have an in-bound fax number.  Faxing is old tech!
For Scanbot, I have it setup so my scans are automatically uploaded to my Dropbox account.
Google Apps
I use google apps for documents, so I can use GMAIL with my email accounts registered on my own domain (like myemailthisisanexample@themarketingcouple.com).
This gives your business a better professionalism – which prospects are looking for.
Free to start, until you fill up your email like I just did 🙂
Phonetag
I use phonetag to automatically transcribe my voicemail messages.
Phonetag is checked by real humans, so it's very accurate.  For $29/mo it's like having a virtual secretary.  It saves my SOOOO much time.  Plus, it acts as a searchable record for voicemail messages in my Google Apps (Gmail) account.
Phonetag requires conditional call forwarding.  This is available on cell phones, all business phone systems, and some personal phone lines.  I have to transfer my phone number from the residual side of my phone carrier to the business side to make it work.  But it is a lifesaver.  The time you save is unbelievable!  Checking phone messages the old way is a low-value activity and you'll never be on top of all your calls.
Start a FREE trial of Phonetag
Vcita – Scheduler and Lead Generator
This is a great little tool for creating free leads for your blog.  It also saves time by helping to schedule things much better using a centralized system that integrates with Google Calendar.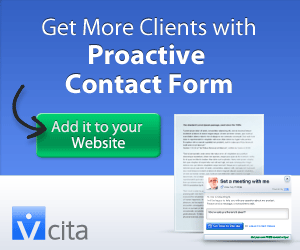 Here's a video explaining how and why I use vcita:
Dropbox
Dropbox is an essential tool if you have more than 1 computer.  And it's free.  For both PC and MAC.
Read my post on how I use dropbox.
Evernote
I used to clip ideas and code and all kinds of stuff in text files.  What a mess.  Now I just use Evernote.  It also can hold PDFs, photos, videos – anything.  Plus it's accessible online from anywhere in the world.  Supports both MAC and PC from desktop.
And free.
Dropbox is my collection of everything notes and pictures.
Download Evernote and get organized.
Domain Registrations:
I use both GoDaddy and Namecheap. but I tend to use namecheap much more frequently as I prefer their interface and order process significantly.
Screen Recording:
I use Screenflow to record on my MAC and Camtasia Studio 8 to record on my PC.
For short recordings I often use the cross-platform free JingPro (which has a limit of 5 minutes) or Snagit, (MAC and PC) which is reasonably priced and is also captures images.  If you want to do longer screen recordings on a PC, you can use the opensource CamStudio.
It's always great to keep backups in the cloud.  Local backups are not enough.  I will do a video on my new backup system.
Custom Lead Capture Pages:
We now do custom lead capture pages for network marketers.  We also do SEO for hire.  And if you need a whole marketing funnel built, or a replicated system for your team or company?  You know who to call.
No, not Ghostbusters, call me!
Hit me up on my contact page if you are interested in this or have a question about any other service listed here.